Myspace Moving the Needle features DJ Jessica Who
Posted on Jun 20, 2012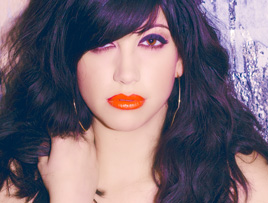 DJ Jessica Who MIAMI, FL
What is your musical background? And kind of how did the life of Jessica Who start?
I don't have necessarily musical parents, but I have very specific memories growing up as a kid, that are based on music. Like a lot of my early memories are surrounding what we were listening to when I was growing up. There was a lot of music on growing up, and I loved it. I was an only child. I was kind of a weird kid, so I was into like weird stuff. Like when everybody else is in 5th grade being cool listening to hip-hop, for some reason I was into oldies, and old stuff. And I was just interested in it. It's like this secret dream of mine that I wanted to be in a band when I was growing up. Like I really wanted to be a rockstar. So, I got a guitar for my like 13th birthday. And I was just terrible at it. And I really had all the heart. I just had this thing where, alright, I want to be involved with music. I want to, I need to do something with it. I had that like feeling my whole life. DJing never dawned on me. Until I started going out when I was in high school. I was like 17 and we would go out to these little bars. And go to the dance parties and stuff. And that was like my first encounter with a DJ. And I just became friends with these people. And I became friends with the guys who would DJ these little parties. And I would really annoy them. I was into like musical structure and theory. So to me it was really interesting to find out patterns in music, and similarities in music. So I would bug these guys. So the guy was like, I've had enough, I'm going to teach you how to DJ. He's like, I'm so annoyed with you. And I just had no interest in it. I was like, no, I'm not, that's not my thing. I'm not really feeling it. And I remember, this one night he's like, I'm going to give you a 10 minute run through. And then I'm going to go to the bar and get a drink. And you're going to DJ. And I was like, there is no way in hell. But he did it and he left me there. And I'm sure it was awful. But what I do remember was just playing songs. I wasn't doing any like mixing or anything. But I was playing songs and I was getting a reaction out of people. All I was doing was picking songs, but I just got this feeling that I was like, oh my gosh, this is it. This is what I'm supposed to be doing with my life. It was just that weird moment. So that was it. And I remember the very next day I I went and I bought like a mixer and then turntables and stuff. And I just dove in. And I'm sure my parents thought it was like, oh here's another phase. She's not going to see this through. I would always get like into something and not finish it. But this time I actually followed through and I was like, I'm telling you guys, this is going to be my life. So 8 years later here we are.
Who would you say are your biggest influences?
My real influences are the people that have had the most influence upon me over the past few years, are just my friends who are DJs. The people that I've like surrounded myself with. People in Miami, people I meet. I feel like they end up having more impact on me than these huge kind of big names. Although I do respect them, and they like paved the way for us. I think every DJ has this like little network of other DJs that you associate with. So, I say it's Conflikkt, Ross 1, Bo, who else man. People like that. I also really look up to, and really respect StoneRokk and Graham Funke. I think that not only are they great DJs, but what they've done with their whole branding and marketing thing. Their whole concept is amazing to me.
How would you define your own style?
I used to be better at defining my style. All I know, I don't like to put musical labels on it. But what I know is that I really want people to leave wherever I'm playing, and having that, oh my God this is the greatest night of my life feeling, you know what I mean. Even if they'rewasted, and it's not the greatest night. But it's just feeling that way where you're leaving a place like God, I had so much fun tonight. The music was so good. Maybe you can't put a finger on it, but I really do like to mix it up. And I feel like that's a huge part being a DJ, is try to be creative, and not just playing hit after hit after hit. I rely a lot on being able to throw other things in, that people are like, oh shit, I haven't heard this in forever. Or I haven't heard this in 15 years. Or my parents used to listen to this. Or whatever, you know, it's just like completely unexpected.
When do you feel you first started to move the needle and people started to take notice?
I think it went in a couple phases for me. Initially probably after I've been DJing for like five years is when things started picking up for me. I started getting more commercial open format gigs because I started feeling more comfortable with it and being able to work with that crowd. That's probably around the same time that Irie noticed me and added me to his label. And then when things really started taking off was probably last year. Like at the end of 2010 because all this stuff started happening. Last summer was just the craziest thing for me. A big part of it was I did the Red Bull Freestyle and I got 2nd place, which is fine by me. But from that, we had DJ Labs judging it. So through that came an opportunity for me to play on the radio. Then last summer I also had this huge campaign with MTV and Dove for the VMA's. That was really when people started noticing like, wow you're kind of everywhere right now. It was very overwhelming, it was a busy summer. But that was definitely when things started happening last year.
For complete interview click here: http://www.myspace.com/movingtheneedle/jisforjerk#Miami